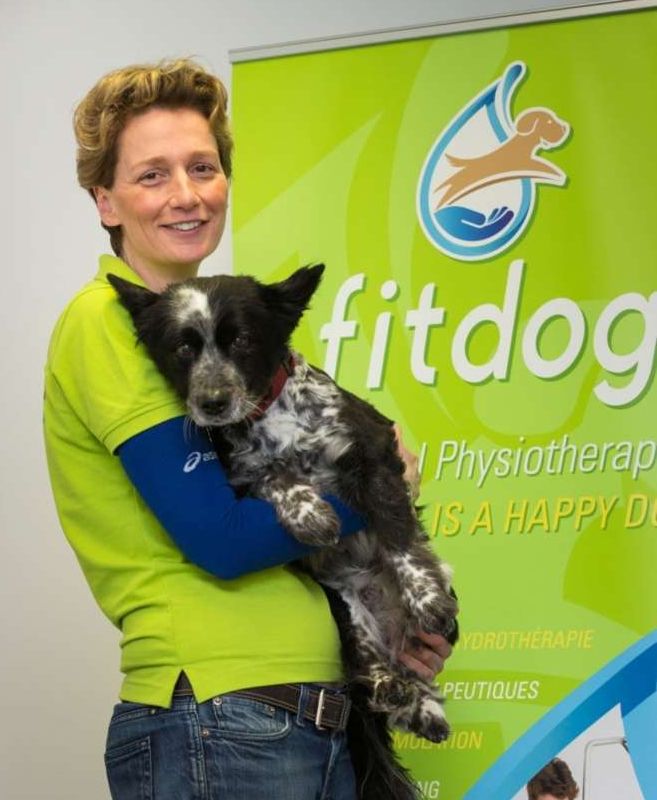 Nathalie JANSSEN
OWNER AND FOUNDER OF FITDOG SÀRL-S. ANIMAL PHYSIOTHERAPIST, CANINE MASSAGE THERAPIST, CANINE FITNESS TRAINER
Brief info
I worked in Banking in Luxembourg for over 16 years. This has taught me the importance to focus on customer service and to constantly develop and learn new skills.
Although I volunteered in a few shelters and trained my first dog, Jake, as a therapy dog to visit nursing homes, my dream to professionally pursue my childhood passion for dogs, steadily grew over the years.
It was not until I read an article about a canine physiotherapist, that I knew I had found my professional calling in life! In addition, I am an avid – albeit very middle of the pack – runner, and as such have had my fair share of experience with physiotherapy myself.
When I heard of animal physiotherapy, I knew this was exactly what I wanted to do, as it would allow me to combine my love for dogs with my interest in physical therapy. This feeling was increased as my own dog, Jake, getting older, developed osteoarthritis. I wanted to find a way to keep him as active as possible and enjoying his daily walks and play sessions.
As such, I decided to completely overhaul my life: I started a postgraduate training in Animal Physiotherapy at The College of Animal Physiotherapy, located in Oxford, U.K., from which I graduated from with Distinction, and consequently quit my job.
This was back in 2014 and I have not regretted this one second since!
I am committed to providing the best care possible and therefore am actively attending the latest available seminars and training courses in Europe. I am a Certified Canine Fitness Trainer from the University of Tennessee, the first in the Benelux to obtain this certification! I also completed a canine myotherapy massage diploma with Galen in the UK, which underlines the importance of having choice led treatment for your dog, which you will find back all throughout my practice. I am also the first practise in Luxembourg to get the certificate of 'Fear Free Professional', meaning that we strive for fear free, force free treatments where want to gain the dogs trust.
So here I am with Fitdog, wishing that animal physiotherapy and canine fitness will bring as much good to you and your pet's life as it has brought me so far! Hope to see you soon with your beloved pooch!
Nathalie works on Tuesdays, Wednesdays, Thursdays, Fridays (mornings) and Saturdays