FAQ and Appointment Types
Please email or call us if you have questions or if you want to know if physiotherapy could work for your pet.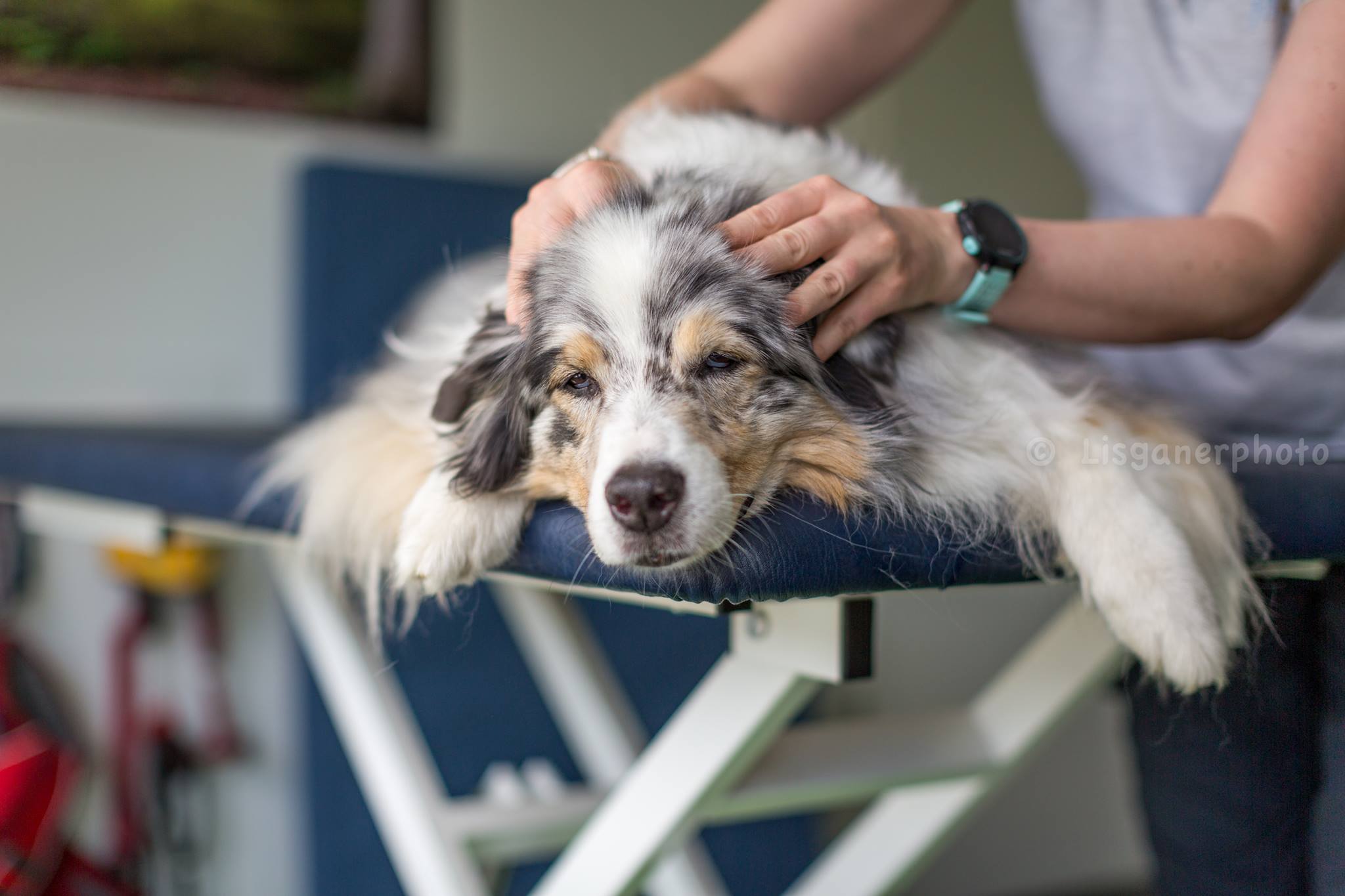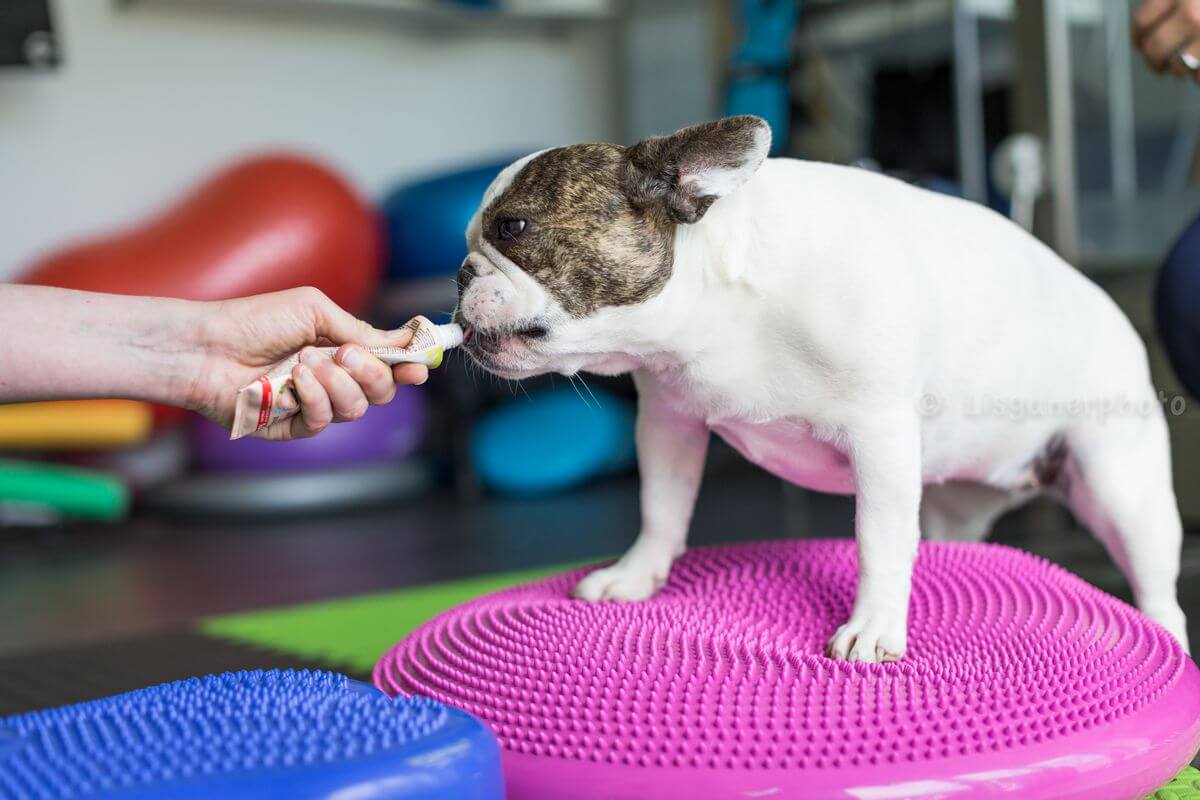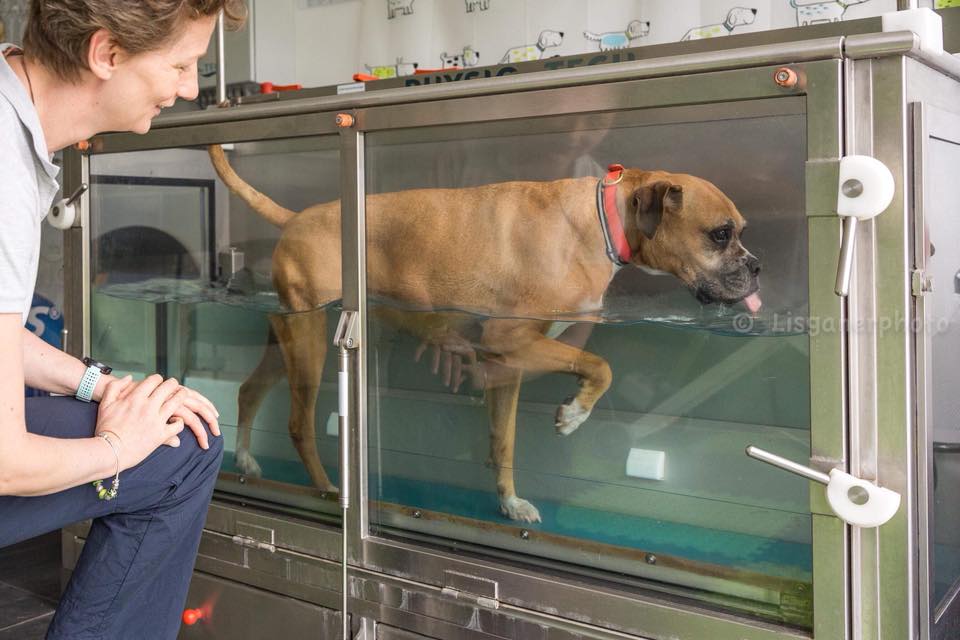 FAQ
As soon as you have an orthopaedic or neurological diagnosis for your dog, you should contact us. For chronic conditions such as osteoarthritis, the sooner physiotherapy is started, the better the results will be. Physiotherapy should really not be left as a 'treatment of the last chance' when nothing else seems to work anymore. If your dog is due to have an orthopaedic or neurological surgery, we suggest you contact us as soon as possible, ideally before the surgery date. That way we can discuss when it's best to start – this will depend on the type of surgery – and can schedule in your pet accordingly in advance. Of course if the surgery was an unplanned emergency, please still contact us as soon as you can. Best is not to wait till weeks after surgery as we then run 'behind the ball' and need to 'catch up' on valuable time lost. Even if your pet seems to be using the operated limb fine post surgery, he will still have compensation issues going on, which will have an impact on the short or long term. Therefore, getting a physiotherapist to check up on all that, will save a lot of pain in the long run for both you and your pet.

Great question and certaintly yes! Senior dogs are my soft spot and having done my graduating dissertation at college on osteoarthritis, I really feel very passionate about helping these. Remember old age is not a disease! Therefore, slowing down and being in pain should not just be disregared as 'he's just old'.  Osteoarthritis is one of the most common musculoskeletal diseases in aging dogs and can be a frustrating condition for you and for your pet. However,  a lot of dogs with osteoarthritis will benefit from physical therapy, as it can reduce the speed of the deterioration, help their pain, and keep them moving to a right old age. In addition, we'll give you home management tips which will help make your pet as comfortable as possible. If you're interested, we given massage seminars either in person or online to help your senior dog in between sessions.

Nathalie is a 'Fear Free Professional'®. Being 'Fear Free' means that we try to build a 'trust' relationship with your pet. At Fitdog, dogs realize quite quickly that they are not at a veterinian. The smell is different for them as we try to reduce the stress hormones as much as possible. We work with a lot of positive reinforcement, treats and relaxing sound and even smells. We will not force a treatment on a dog! This means we typically treat on the floor unless if the animal is at ease to be on our treatment table. There will be no forcing them to stay down by pulling or holding legs or pushing down on them. The dogs always have a choice to get up and walk around. Any foreceful treatment will anyways not have the desired effect. This does mean that for certain dogs, specifically the initial sessions, might be very 'hands off'. I have had dogs which initially were too afraid to come close to me and then we just resorted to observing them, tossing treats and giving advise to the owner, and maybe doing some 'hands off' exercises. Often dogs will eventually come to me and 'offer' certain body parts for treatment. I have worked with several dogs this way that needed several sessions for me to gain their trust, and where today I can do any treatment with them without any fear or force. This does not mean that I am against muzzling of dogs to protect not only myself but also the dog and owner. However, please muzzle train your dog in advance if you believe this is necessary and have an open conversation with me about this.

This is a common concern and comment I often get! But no stress, owners are often amazed how well their water-shy dog takes to the underwater treadmill. The introduction to the treadmill happens very slowly at the speed your dog allows. For most dogs, they are totally in at the 2nd or 3th session. Some go quicker and some will take longer which is totally fine. Again, we work a lot with positive reinforcement and by observing your dog's fear and anxiety levels. If at any point we estimate that hydrotherapy is indeed too stressful for your dog, then we won't insist. In that case, there are plenty of other treatment options that will work for your pet! Hydrotherapy is a great tool but it does not mean that when this is not an option for your pet, that he cannot benefit from all the other physiotherapy treatments!

The water of the underwater treadmill is changed at least once a day and constantly filtered, as well as run through a UVC anti-bacterial light. Depending on the amount of dogs we treat, the water might be changed two or three times daily. The treadmill has a capacity of 600 litres. Due to this quantity of water and the fact that the water is warmed to about 31 C, it would be impossible to drain the water out after every dog, like you would with a bath. However, we have filters to extract as many hairs or treats as possible that would fall in the water, as well as a blue UVC light which filters bacteria. At the end of the day, and at regular intervals, the treadmill is cleaned more thoroughly.  To help us maintain this water quality for all our patients, we do ask that you brush your dog before a hydrotherapy session so as to remove as many hairs as possible and remove any dirt and sand from his coat. Hair will come out in the filters but sand and dirt not only makes the water unusable but is also corrosive and damaging for the threadmill. If your dog would loose exessive dirt or sand in the treadmill, we will be obliged to stop offering this treatment for him. We also ask to advise us so we do NOT do hydrotherapy in case your dog has: any skin infections, virusses, open wounds, urinary tract infection, females during their heath, diarrhea or vomiting within 24 hours, incontinence or fever. If your dog would defecate in the water, we do ask a compensation of 125 Eur as we will need to stop and desinfect the treadmill. Thanks in advance for your understanding.

Ideally we would like any client to come with at least a veterinary check up or diagnosis. A veterinary referral is preferred but not required. Having a veterinary referral will allow us to focus and treat the diagnosis as quickly and effectively as possible. It will also easy our contact with your vet as we would like to keep them updated of your pet's physiotherapy treatments and progress and work together with them as your pet's 'health team'. Please remember that physiotherapy is complimentary to and does not replace a veterinary diagniosis or treatment.

This will all depend on the diagnosis. For chronic conditions such as osteoarthritis, ideally life long treatment will be needed as this is a chronic degenerative disease. For acute problems such as sprains or tendinitis, it depends on the issue but a minimum of 4 sessions is needed and often longer with more frequent visits at start. Post-operative dogs often will need more frequent sessions at start – sometimes more than one a week – and a minimum of 8 to 10 sessions is quite normal. Dogs with neurological issues such a hernias, resulting in initial paralysis,  often need treatments for weeks and even months.

Our prices are all inclusive. This means there are no hidden costs! Sessions include manual treatments such as massage and rehab exercises but also laser,  electrotherapy AND hydrotherapy. This will guarantee that your pet will get the best possible treatment he needs based on his diagnosis and progress. Please also note that we want to stay up to date of the latest techniques and medical news and therefore strive to do continuous education provided by the best international teachers and associations. Our ongoing training does not stop with obtaining our main physiotherapy degree! There is of course a rather significant cost to both physiotherapy equipment and education, which we need to take into account in our price calculations so that we can continue to provide the best possible treatment for your pet.

It is important to know that physiotherapy does not equal hydrotherapy only. Hydrotherapy is just one of many treatment options that physiotherapy has to offer. For all our appointments we will always check which modalities are best for the dog at that moment. This can include manual treatments such as massage and rehab exercises but also laser, electrotherapy AND hydrotherapy (if appropriate). This will guarantee that your pet will get the best possible treatment he needs based on his diagnosis and progress. Unless otherwise indicated, all hydrotherapy clients will also get some manual treatment such as massage. This way we can 'feel' how your dog is doing and where he has possible tensions or pain. We do not offer a 'hydrotherapy only' price as we believe that physiotherapy should be 'hands on' at all times. Just putting a dog in the underwater treadmill without doing a manual check is not up to the standard of physiotherapy we want to offer. Sometimes a veterinarian might refer a dog for 'hydrotherapy'. However, often in such cases, the veterinarian might not be fully aware of the full range of physiotherapy modalities available. We will still check in such situations what the best treatment options are for your pet in addition to the hydrotherapy and discuss these with you accordingly. 

This is a very good question! Although animal physiotherapy is getting more well known and accepted, often veterinarians are not familiar with it as it is a relatively new field in veterinary care and only recently being taught in some veterinary universities. Therefore, they might not think about referring your pet as they are either not aware of this option or they might be unsure if phsyiotherapy can actually help. As animal physiotherapists we try to visit and educate veterinarians about our education and about what we do, but this is a process that takes time. Therefore, our answer would be to still check with us if physiotherapy is an option for your pet, even though your veterinarian might not have mentioned it or might not be in favour of it. Remember you are the voice for your pet, so if in doubt, just talk to us! Similar as in human care, physiotherapy should defintely be done as soon as possible after orthopaedic or neurological surgeries, and the same goes for acute or chronic injuries and in the case of osteoarthritis. Discussing this with a physiotherapist should be the standard of care we evolve towards for all our pets!

Yes we do! Although our main focus is physiotherapy for dogs, we do offer physiotherapy for other pets and actually enjoy this very much! We have had cats and also ferrets, but also other pets such as rabbits, goats and even chickens could benefit from physiotherapy. Of course, the treatment type and lenght will need to be adapted the the animal in question. Some cats for instance could very well do hydrotherapy, but this is not a standard modality for them. For cats, depending on the willingness of the animal to cooperate, we either do regular sessions at Fitdog, or we see the cat only occasionally to check for progress and will work more with the owner to do specific home exercises with their pet. Home visits are always an option for cats too, when too much stress to transport to the practice.

Very good decision as acupuncture and osteopathy are complimentary to physiotherapy treatments and can benefit a lot of pets! However, I have made a conscious decision to not offer this ourselves. The reason therefore is that both acupuncture and osteopathy are very large and complex fields in its own and in my opinion best performed by specialists in these areas. I strongly believe that animal physiotherapy is already a very large, complex and constantly evolving field on it's own. Therefore I believe it is better to purely focus on physiotherapy and be the most knowledgeable and best we can be for your pet in this specific field, rather than have a bit of knowlegde in a lot of fields. One cannot be an expert in everything. Also, with acupuncture and osteopathy, you can do harm when not done correctly. For these fields, one needs to have a more extensive education about patologolies than what is part of our physiotherapy degree. I also lean very much towards the anglosaxan education – where I studied and do all my ongoing trainings – which states that only trained veterinarians are allowed to pierce the skin, and therefore do acupuncture. We do offer osteopathy with Elise Mosca who comes to Fitdog and is a trained human and canine osteopath. Furthermore. for acupuncture and also osteopathy we partner and work closely together with Dr Jaunet from alternative-vet.lu. That way you can rest assured that only people specialised in their respective fields will work with your pets!